Pioneer in the construction industry with innovative technologies
Innovative Construction Method
The construction industry would like to make changes by implementing "Construction 2.0" advocating "Innovation", "Professionalisation" and "Revitalisation" to uplifting the efficiency and sustainability of the industry, increasing productivity, enhancing supervision and quality assurance, improving site safety and reducing environmental impacts.
In this regard, as a pioneer in innovative technologies within the construction industry, CKR has introduced and implemented various innovative construction methods in the CKR contracts.
Building Information Modelling (BIM)
BIM is adopted for generating three-dimensional models by digital representation throughout the construction period, facilitating the project team in making accurate judgments. BIM demonstrates actual building components of the whole structure by combining numerous working drawings and information, which enables the provision of relevant information to the project team during the construction stage. It can increase certainty, provide low-risk designs, reduce wastage, improve delivery on our projects, and enhance communications among the project team.
Through BIM, the project team perform a variety of analysis to enhance the construction quality by optimising the planning and design as well as improving coordination.
Simulation of Kai Tak Ventilation Building (KVB) and Administration Building (ADB) Construction
Time-lapse Simulation of Sea Platform Construction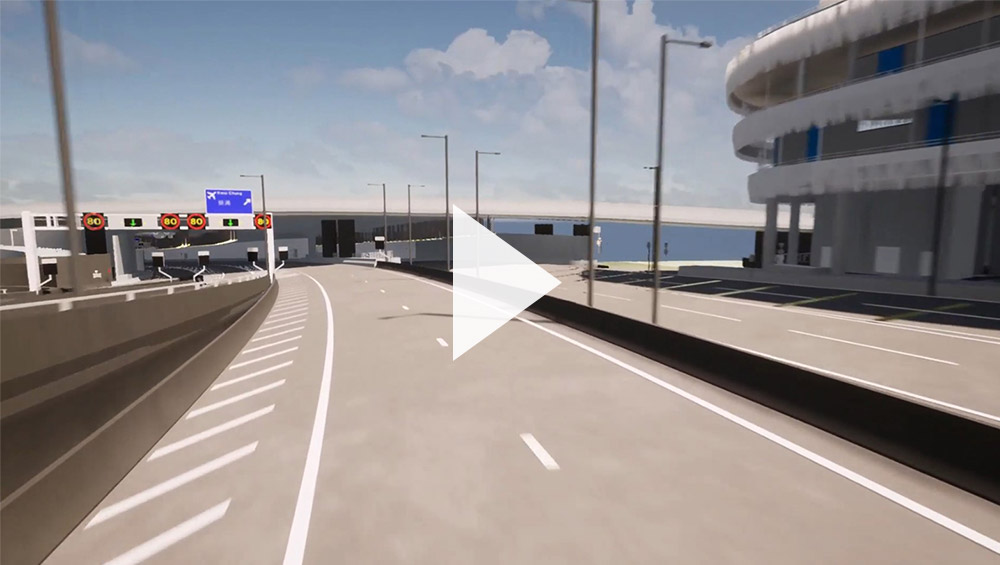 Simulation of CKR Commission
Simulation of Yau Ma Tei Carpark Demolition
中九龍幹線工程採用建築資訊模擬,透過數碼科技以立體模型模擬及展示整個施工程序,協助工程團隊作出準確判斷。建築信息模擬能結合眾多圖則及資訊,展示現實世界中用以建造建築物的構件,為工程團隊提供施工期間的相關資訊,使工程項目的施工過程更為精確,提供低風險設計,將浪費減至最低,並有助工程團隊間的溝通。
工程團隊透過應用建築資訊模擬,為整個施工程序作出全面分析,從而優化規劃、設計和協調,提升施工質量。
Automatic Canopy Installation System (ACIS)
Under the Central Tunnel contract, the Contractor is required to carry out, amongst other things, the construction of an approximately 2.8km-long dual 3-lane tunnel. In order to enhance safety performance and to avoid risk of personal injury during the installation of temporary canopy supports at fault zones and tunnel portals, the project team has pursued an alternative construction methodology, namely automatic canopy installation system, which reduces labour intensiveness of the canopy installation process. This system provides a fully mechanised installation of canopy pipes which allows remote controlled operation for the safe connection of canopy pipes. Meanwhile, it saves the workers from direct contact with the moving hydraulic drilling machine. It is worth mentioning the system is the first-ever application in Hong Kong.
為進一步提高施工安全、效率及質量管理,中九龍幹線工程團隊積極推動工程監督系統數碼化,利用創新科技,即時收集工地安全、環境、施工進度及質量等數據,方便記錄及監察。數碼化監督系統可透過安全網絡系統於電腦和流動裝置雲端上運行。所收集的數據將在所有設備和伺服器之間自動同步,以提供高效資訊。
此外,數碼化監督系統能整合中九龍幹線各主要工程項目資料,讓工程團隊能即時知悉及分析各工程項目的進度及表現,實現建築業"創新"、"專業化"和"振興"的理念。
Blasting Face Access Control with Smart Camera
Given that the handling of explosives is considered as high-risk activity, the Central Tunnel project team has installed the smart camera on site serving as the access control of blasting restricted zone. This artificial intelligence image recognition system enables real-time monitoring of blasting face. When there are any unauthorised entries to the blasting restricted zone, warning signals will be sent to the site supervisor and the registered shotfirer for immediate follow-up action.
NAMI's Self-Compacting Backfill Material
"Self-compacting backfill material" is a controlled flowable backfill material jointly developed by the Highways Department and NAMI. Its self-levelling and low strength characteristics could expedite the backfilling process by eliminating the need for compaction and sand replacement test. This material can also be placed during wet condition and heavy rain. Comparing with the use of "Self-compacting backfill material" with conventional soil backfill, "Self-compacting backfill material" has a better performance on efficiency, safety, environmental, dependence on spacious area and dependence on manpower or machineries.
6 nos. of trials were successfully conducted from September 2020 to April 2021 at various locations of Kai Fuk Road Footbridge and Underpass S21. 300m3 in total volume of NAMI's self-compacting backfill material was adopted. Self-compacting backfill material has better performance in terms of efficiency, operation cost, spatial requirement, resources/manpower, machinery, safety and environmental performance than conventional soil backfill.